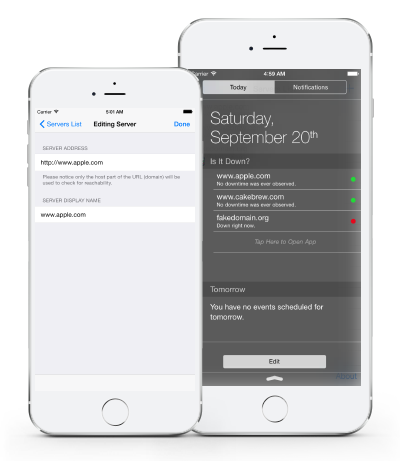 Is It Down? – iOS Notification Center Widget
The number one widget for website owners and admins. Check for downtime in your websites!
Download
How to Use
To use Is It Down? just follow these instructions:
Install the Companion App
iOS 8 Extensions, such as this widget, are installed through their companion Apps. Click the button above to access the App Store and download Is It Down? for free.

Add Your Favorite Websites
Open the companion App and tap the + icon. Insert the URL and display name for the desired website, then tap Done.
(Please notice only the host part of the URL (the domain) will be used to check for reachability).

Add the Widget to the Notification Center
Drag your finger from the top of the screen to open the Notification Center. Scroll to the bottom and tap Edit. Tap the green + icon to the left of the Is It Down? label, tap Done.

Use!
iOS 8 keeps the widgets updated even if the Notification Center is closed. Check it whenever you want to be presented with updated data regarding your favorite websites.
'Is It Down?' was developed by
Bruno Philipe
— Copyright © 2014 — All Rights Reserved